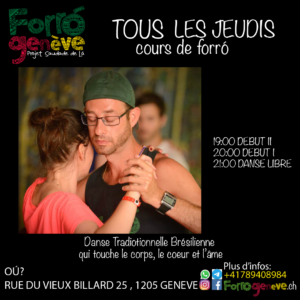 *English below *
Venez découvrir et danser le FORRÓ en 2023/24 pour une vie plus heureuse !
À remplir si vous souhaitez vous inscrire aux cours de forró de façon trimestrielle ou annuelle pour l'année 2023-2024.
POUR L'INSCRIPTION REMPLIR LE FORMULAIRE
https://forms.gle/DdDHVizR3aoH5wVG7
Les cours ont lieu le Jeudi de 19h à 21h suivis d'une danse libre jusqu'à 23h. 
19h Débutant II
20h Débutant I
21h Danse libre
Les danseurs et danseuses du cours plus avancé de 19h à 20h sont vivement encouragés à participer (gratuitement) au cours suivant puis à la danse libre. Nul besoin de venir avec un.e partenaire.
OÙ?
Rue du Vieux Billard 25, 1205 Genève
Pour des cours privés, contacter directement le professeur: +41 78 940 89 84
Cours particulier: 60 CHF/h
Forfait pour 10 cours particuliers : 500 CHF
Si tu es étudiant.e ou sans-emploi, adresse-toi à nous directement.
…
English version
Forró Genève : Come and learn to dance FORRÓ with us in 23/24 for a better life!
See the prices below with and without membership (100.-/year). Membership gives a 20%-discount on every service offered by the organisation (classes, parties, events..). It enables the organisation to have a mid and long-terme view on the budget, secure investments in parties, materials, rents, compensation for volunteers…
Also, members have the right to participate in the general assembly, discuss and vote decisions regarding the organisation. The next meeting will take place on the 21st of December, 23 from 6.30 pm to 7.30 pm, just before the first class.  
When?
Classes take place from 7 pm to 9 pm, followed by a free practice time from 9 pm to 11 pm.
Where? 
Rue du vieux billard 25, 1205 Genève 
7 pm Beginner II 
8 pm : Beginner I
9 pm: Free practice evening 
Dancers from the more advanced class are encouraged to stay and participate (for free) in the less advanced class, as in the free practice evening. You don't need to come with a partner.
As for private classes, please contact the teacher directly: +41 78 940 89 84
Private: 60 CHF/hour
Package 10 private classes: 500 CHF
If you are student or unemployed, speak to us.